Saw this on another blog and decided to see for myself where all I've been in the U.S.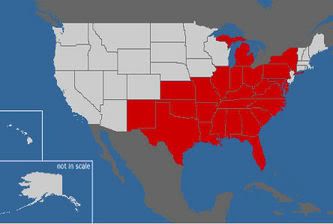 create your own visited states map
I've been to:
Alabama
Arkansas
DC
Delaware
Florida
Georgia
Illinois
Indiana
Kansas
Kentucky
Louisiana
Maryland
Michigan
Mississippi
Missouri
New Mexico
New York
North Carolina
Ohio
Oklahoma
Pennsylvania
South Carolina
Tennessee
Texas
Virginia
West Virginia
That's 26 states!! Thanks to my parents taking us traveling when we were children, I guess I'm pretty well traveled!! Someday, I'd like to go to the New England states, and do some of the northern midwest states.
If you do your own map, please leave me a comment so I can see where all you've been!