Why does it always seem that when there's something special you want to do, something either comes up or happens to keep you from actually doing it? Today, I really wanted to go to a Stampin' Up! show at my friend's house, and I woke up feeling ukky. Headache with nausea, and severe edema in my feet. Eyes are swollen from allergies. Oh, joy. So I spent my day alternating 15 minutes of work in my kitchen at a time and taking a break to put my feet up. Took two naps and STILL have a sick headache. Light makes it hurt worse but I have to see to do the things I have to do.
I am going through scrapbook withdrawals - that's my relaxation and "therapy". It's "me" time and lets me be as creative as my mind wanders and reminisces. Right now my scrap space is really not functional, so we went to buy a computer armoire tonight and as soon as we get it together and get Peter's computer moved over, we'll rearrange the room so that the girls will have more space to play in and I will have a dedicated scrap area. The armoire has a lock on the door, which is a very good thing, considering that I have an 18mo that likes to push buttons and a tiny one that's almost ready to start crawling. Hopefully mid-week next week I'll be able to sit down and actually start working on the piles of photos that I've got stacked up waiting to be scrapped. :) A girl can dream, right?
To totally change the subject: Did you know that if you've got three babies in the same room and one is crying like her heart is broken, it causes a domino effect and you end up with crying in stereo? That happened yesterday. Savannah was here for a couple of hours, and she cried and cried (they woke her up to bring her in), and she woke the baby up, so I brought her in to put her in the swing while I held Savannah. I had to run to the little room so I put Savannah on the floor, and she got more upset, and caused Amber to start crying! Wow - three babies all crying at the same time - NOT fun!! The chaos and clamor woke Hannah up, and she was grumpy. In the midst of it all, my WONDERFUL Mom showed up!! She took Savannah and got her calmed down, and before they left, all three older girls were in the floor playing together. They were SO cute...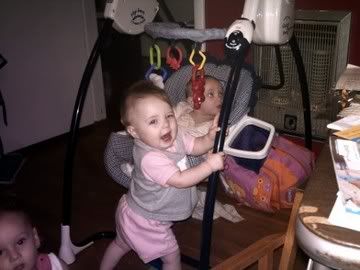 Savannah playing with Valerie's (aka Mazie Mo) toys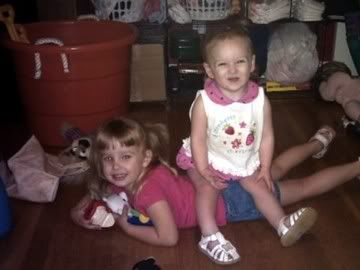 I was at the computer when I turned around and saw Amber on top of Hannah. I just HAD to get a pic of them! Too cute, huh? :)